Best-selling author
Randall Munson, CSP
Creativity should be a natural part of everything you do. This extraordinary gook gives you fresh new ideas - and some timeless wisdom - on how to be more creative in practical ways, and have fun doing it. Ten different experts bring you a smorgasbord of ideas to pump up your organizational and personal creativity.

You'll learn how to:
make the most of the intellectual capital in your organization
use humor to loosen up and be more creative
apply creativity to enhance the sales process
use shared mental models to promote innovation
run effective and fun brainstorming sessions
reframe ideas and problems to generate new solutions
understand your own thinking preferences
use visual imagery to enhance creativity
apply creative problem-solving techniques to come up with innovative solutions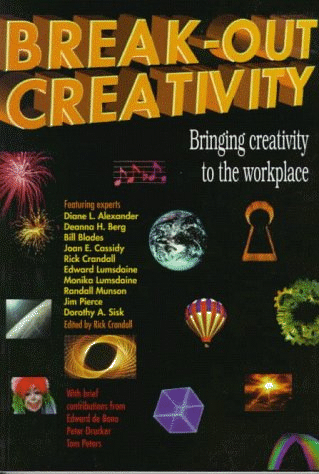 (Package of 10) Reprints of the chapter: Humor as a Creativity Tool - Laugh Your Way to Creativity by Randall Munson
What others are saying about this book:
" Break-Out Creativity is fun to read, practical, and results-oriented as well. Open the book to any page and you'll discover something that will help you become more creative and innovative today."
Michael Michalko
Thinkertoys and Think-Pack (A Brainstorming Card Set)
" Imagine this! Under one cover you can read about hairballs, mindsets, and intellectual capital. Break-Out Creativity is as eclectic and zany as today's workplace. Enjoy it. Share it. Apply it!"
Louis Patler, PhD
If It Ain't Broke, Break It!

" Everything starts with a new idea - all new products, every solution to old problems, each new opportunity. Break-Out Creativity contains a wealth of information to help you generate new ideas, and then implement them to boost productivity, profits, and fun. "
Joyce Wycoff
Founder and executive director, Innovation Network

" Loaded with practical advise from creativity experts that will put any organization on the path to innovation."
Bob Nelson
1001 Ways to Reward Employees

" A wonderful set of tools to help you mine the nuggets of breakthrough ideas from the gold mine within you."
Bryan Mattimore
99% Inspiration: Tips, Tales, and Techniques for Liberating Your Creativity

Order for Those You Want to Succeed!



Contact Randall now for further details of his highly original programs, to request a promotional kit, or to book Randall Munson for your most important events.