And the Boston Red Sox win the World Series
Each issue of Business Magic!™ features a photo from my personal "Humor File" containing funny things I have collected from around the world. I recommend you create your own Humor File; put into it whatever you find that is funny to you; and, when you are stressed, open up your file and look through it. It works like magic to help reduce stress - and it's cheaper than therapy!

Here is more Fun Stuff for you to enjoy.
2. World's Oldest Man Dies at 113 in New York
Fred Hale Sr., documented as the world's oldest man, watched his lifelong favorite baseball team, the Boston Red Sox, win the World Series again after 86 years. Hale is one of the few people on earth that witnessed the Red Sox win two World Series. He was 27 years old when it happened the previous time.

The world's oldest man died just 12 days shy of his 114th birthday. Hale was quite a remarkable man. At 103, he was still living on his own and shoveling the snow off his rooftop.

Hale also was a Guinness record-holder for the oldest driver. At age 108, he still found slow drivers annoying.

Consider the remarkable changes you've seen in your lifetime and then try to imagine the breathtaking changes Fred Hale Sr. experienced during his long life. Some changes, like the Red Sox winning another World Series, come slowly but others come with blinding speed.

I'm selling my old car right now. It has a CB radio in it. That was hot technology for communicating on the road when the car was new. I'm sure I won't get any more for money for the car because it has the CB radio - unless it would be from a nostalgic collector. Cellular telephones have made CB radios seem antique. And cell phone technology is changing rapidly. Some now include a GPS locator, Palm Pilot PDA (Personal Digital Assistant), or full motion video camera.

Not only are more changes occurring now than ever before, the rate of change is accelerating. In the next 5 years, you will experience more change than you have up until now in your lifetime.

Are you doing business the same way you were 5 years ago? If so, you are probably falling behind. Look at the changes around you and transform your business to take full advantage of them. Begin to revamp your business now so that it will be dramatically different, and up to date, 5 years from now.

I encourage you to be like Fred Hale Sr. who, at age 95, flew to Japan to visit a grandson who was in the Navy. While en route back to the United States, he stopped in Hawaii and gave boogie-boarding a try!

Enjoy thrill while riding the waves of change!

By the way, the world's oldest living man is now Hermann Dornemann, of Germany, age 111. There are 26 living woman older than him, according to Gerontology Research Group.

If this is difficult to read because the HTML format doesn't work properly with your email software, please forward this to subscriptions@CreativelySpeaking.com and ask us to change your subscription from HTML to Text format.
3. Future Home Computer
The future is difficult to predict. Unanticipated advances in technology inevitably make our best guesses seem silly, as shown by this 50 year old prediction of a home computer! Some say that change is here to stay. But I say, "Change is here to change."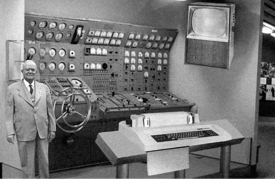 "Scientists from the RAND Corporation have created this model to illustrate how a "home computer" could look like in the year 2004. However the needed technology will not be economically feasible for the average home. Also the scientists readily admit that the computer will require not yet invented technology to actually work, but 50 years from now scientific progress is expected to solve thee problems. With teletype interface and the Fortran language, the computer will be easy to use."
4. The Winner
Following Randall's keynote at the IT&CMA/CTW 2004 show in Bangkok, Thailand, a drawing was held for an autographed copy of Randall Munson's best-selling book.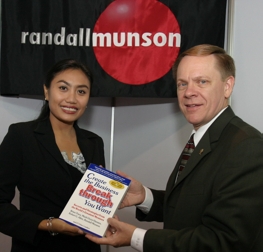 Dewi Mas of Bali Hyatt
Lucky winner of autographed copy of Randall Munson's book
Create the Business Breakthrough You Want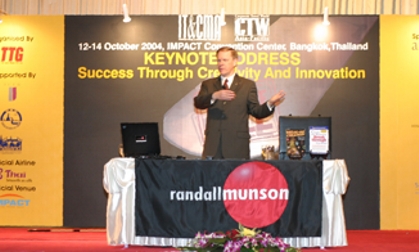 Candid photos taken during Randall Munson's keynote address in Bangkok.
Success Through Creativity and Innovation!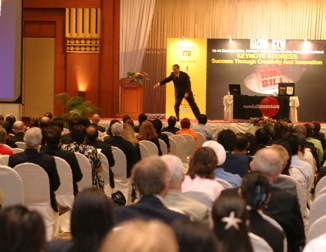 If you want Randall Munson to deliver one of his powerful, award-winning presentations at your event, contact him now!

Would you like some useful things without having to pay for them? We'd like to give that to you. Here is some Free Stuff for you.
5. Nice Flu
You may be familiar with Hong Kong Flu, Type-A Flu, Asian Flu, and Bird Flu but are you aware of the Nice Flu? Nice Flu has inflicted many in the state of Minnesota and there is evidence that it is spreading.

Because of a shortage of regular flu vaccine in the United States, the Centers for Disease Control and Prevention is limiting flu vaccines to people with high risk - the elderly and the very young. Throughout America people have been standing in long lines competing to get inoculated before the vaccine runs out.

But, according to recent news reports about the shortage of flu vaccine, there is a strange phenomena occurring in Minnesota. Many Minnesotans who are at high risk of flu complications aren't getting the vacation because they think there's someone out there who needs the vaccine more than they do.

People are saying things like, "I am 65, but my 92-year old mom needs it more" or "I'm 83 but I don't think I need as much as those little babies."

At a clinic in Bloomington, MN, public health workers came with 800 vaccine doses but gave out only 259. Nurses at a clinic in Prior Lake, MN, arrived with 1,000 doses and left with 750. Kris Ehresmann, head of the vaccine program at the Minnesota Health Department, said there are about 1.6 million high-risk people in Minnesota who should be vaccinated, but many have not gotten shots. The state still has about 925,000 doses available.

I call this strange Minnesota behavior the "Nice Flu." (A variation of "Minnesota Nice.") Those infected with Nice Flu behave differently. They do nice things for others. At a four-way stop infected drivers wave other cars to go first, thinking the other guy may be in a bigger hurry, instead of trying to beat everyone else thorough the intersection.

I've often seen drivers on a four-lane highway start driving in single file for no apparent reason. There is no sign telling them to merge into a single lane but they do it because they see the cars ahead of them doing it. Instead of taking advantage of the open lane and aggressively rushing ahead of the car beside them, they slow down and nicely merge together without honking any horns. Sure enough, a mile or so up the road a sign appears that says "SINGLE LANE AHEAD." But those with Nice Flu have already formed a nice single lane miles before it is required.

What is most unusual about Nice Flu is that it the disease can break out spontaneously. I've accidentally started an outbreak on an airplane. The overbooked flight's departure had been delayed and finally the stressed out passengers were jostling into the crowded airplane grumpily elbowing for space in an overhead for their carryon luggage. One woman aggressively squeezed between other passengers and gave me a dirty look as I stood next to one of the few remaining open spots in the overhead with my bag in my hand.

I surprised her. I offered to lift her heavy bag into the opening. Suddenly, Nice Flu broke out! She relaxed, smiled, and nicely stepped aside to let another passenger pass by. Other passengers caught Nice Flu. They offered to reposition their bag to make room for someone else. One obviously infected man actually took his bag out of the overhead to make room for a late arriver's larger bag. People nicely waited for each other and helped each other. They said nice things like "thank you" and "you go ahead first." Clearly Nice Flu had broken out in the plane that night.

I'm not the only person that has realized that you can spread Nice Flu. "Good behavior is catching. The more you display it, the more it spreads." says Peggy Post, great-granddaughter-in-law of the venerable manners maven Emily Post and director of the Vermont-based Emily Post Institute.

Just for fun, try to start an outbreak of Nice Flu. Do something really nice in an unexpected situation and see what happens. Don't expect immediate reciprocation; just observe subsequent behavior. Watch to see if others start exhibiting symptoms: being nice. It's fun to watch an outbreak of Nice Flu. Together we may be able to create a genuine worldwide epidemic of Nice Flu.

Wouldn't that be nice?
If you enjoy this Business Magic!™ newsletter, will you do something for me? Simply forward this issue to the people you know who could benefit from it. Or, simply tell them they can sign up for their own subscription. All they have to do is go to CreativelySpeaking.com to sign up. It is that easy! You and I want to share the magic so pass it on.
They'll thank you for it and so will I.
6. Advice?
I will be writing a new business advice column for a technology magazine. I'd like to know the issues you struggle with at work. If you have a question for me to tackle, please send it to me.
7. Parting Thoughts
The focus of this issue of Business Magic!™ is change. Rapid changes in technology are transforming our world. Other, less controllable changes, such as natural disasters and wars, have immediate profound effects on those directly impacted. They also have pervasive changes to society and businesses. Change is relenting and cannot be stopped. That is why I created the program "Turn CHANGE Into DOLLARS!" to help individuals and organizations deal with change more effectively and profitably.

I've helped companies around the world make millions of dollars in additional sales - and I may be able to do that for you, too. I can only work with a limited number of companies so, if you are interested in discussing the possibility, contact me for a no-cost consultation and we can explore the possibility.

International Creativity Month was founded by Randall Munson and is celebrated around the world annually January 1 through January 31.


See Randall

Most of Randall Munson's appearances are private events for companies and organizations. Occasionally, there are public venues, open to everyone. Some of them are listed below.

If you would like us to tell you when Randall is speaking in your area, please contact Randall now and ask us to let you know.
Puerto Vallarta, Mexico
February 10-12, 2005
VII Congreso Internacional
EDUCACION PARA EL TALENTO





The VII International Congress EDUCATION FOR TALENT. The best congress of education of Mexico for all Latin America! Randall will be delivering the keynote presentation "Success Through CREATIVITY!" for this international conference.
http://www.redtalento.com



Anaheim, CA, USA
February 27 - March 4, 2005
SHARE



SHARE, the world's first organization of computing professionals, is presenting Randall Munson with the Best Session Award for his top rated presentation "Business Success Through CREATIVITY!" at their previous international conference. This is the second SHARE conference in a row in which Randall earned the Best Session Award.
Randall is presenting four sessions at SHARE.
http://www.share.org


Chicago, IL, USA
March 13-17, 2005
COMMON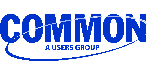 Randall is presenting six sessions at COMMON, World's Largest Computer Users Group. Randall is receiving four GOLD MEDALS for his top rated presentations at the last conference. His program "Magic of Selling Technology" was the highest rated session of the entire conference.
http://www.common.org


Thank you for being a loyal subscriber and for your trust by recommending Business Magic!™ to others.

If you have difficulty subscribing or unsubscribing, please send an email with your name and email address to subscriptions@CreativelySpeaking.com and we'll help you.
To subscribe, click the link below.
Subscribe

© 2004 Randall Munson. All rights reserved.
We encourage sharing Business Magic!™ in whole or in part if
copyright and attribution are always included.
Contact Randall now for further details of his powerful original programs, to request an information kit, or to hire Randall Munson for your organization.