Watch where you sit
Each issue of Business Magic!™ features a photo from my personal "Humor File" containing funny things I have collected from around the world. I recommend you create your own Humor File; put into it whatever you find that is funny to you; and, when you are stressed, open up your file and look through it. It works like magic to help reduce stress - and it's cheaper than therapy!

Here is more !link_fun for you to enjoy.
2. Laugh at Work for Success!
You've probably heard successful people joke that they "laugh all the way to the bank." But which came first? Do they laugh because they are successful or are they successful because they laugh?

I've been interviewing CEOs and CIOs of major, successful corporations. In the process I've discovered a relationship between laughing and success. Companies that encourage fun and appreciate humor tend to outperform their competition. Here are a couple examples:
Most major airlines in the US are struggling financially. Many are teetering on the verge of bankruptcy and are taking such extreme financial measures as removing pillows from the airplanes, eliminating in-flight meals (selling meals onboard instead), and no longer providing the little paper folders to slip your boarding passes and tickets into when you check in. They are deadly serious companies - and they are nearly dying.

In contrast, Southwest Airlines continues to make money. One big distinction about Southwest is that they laugh at work. Consider the way the pre-flight "safety announcements" are made. Instead of the mumbled, monotone recitation you hear on most airlines, on Southwest you may hear "In the event of a sudden loss of cabin pressure, margarine cups will descend from the ceiling. Stop screaming, grab the mask, and pull it over your face. If you have a small child traveling with you, or someone acting like a child, secure your own mask before sticking one over their mouth. If you are traveling with two or more small children, decide now which one you love more." Hearing that, passengers look at each other and laugh. Southwest has fun even with very serious things.

In case you are wondering, the FAA doesn't object to the humorous safety announcements. Southwest spokesperson Sherry Phelps told me the FAA folks say the funny ones are the only ones anyone ever listens to!

She also said Southwest employees will work their butts off because it is fun to work there.

Southwest Airlines is a success. They laugh at work.


Outback Steakhouse, Inc. is a booming, successful restaurant chain. In 1988 the four founders planned for four restaurants, one for each of them. They wanted to run their restaurants the way they thought good restaurants should be run, generate enough income to support a comfortable lifestyle, and have fun doing it. Their growing number of restaurants around the world has now surpassed 1,200 and still climbing.

Dusty Williams, CIO of Outback Steakhouse, told me that having fun is still essential to the success of Outback Steakhouse. In fact, one of the company's five principles is "FUN" (The others are hospitality, sharing, quality and courage).

Outback Steakhouse is a success. They laugh at work.
Is your organization a success? Do you laugh at work?

Try it because you, too, may laugh all the way to the bank!


If this is difficult to read because the HTML format doesn't work properly with your email software, please forward this to subscriptions@CreativelySpeaking.com and ask us to change your subscription from HTML to Text format.

3. Laugh - Just for the Health of it

Laughter is good for you. Not only does it improve your disposition, it improves your health. You receive an aerobic benefit from laughing. When you laugh hard, like when you exercise, your large muscles move, your breathing increases, your heart rate gets a boost.

A study found that just 10 seconds of good hearty belly laughs give you the same aerobic effect as 5 full minutes of moderate jogging!

So, if you are feeling guilty about not exercising . . . Get up in the morning, laugh your head off, and go back to bed!

4. Laugh at Work Week

For one week each year the world celebrates "Laugh at Work Week." A week dedicated to having fun at work and recognizing the business value of humor and laughter.

Appropriately, the week begins on April 1. That's right, April Fools Day!, the day in which pranks, stunts, practical jokes, and spoofs abound.

Laughter and humor are an important part of the workplace. Benefits of laughing at work include improved productivity, creativity, teamwork, communication, stress relief, job satisfaction, and employee retention.

Laugh at Work Week was founded by Randall Munson and is celebrated around the world annually April 1 through April 7.

Before the week is over be sure to laugh at work!

If you enjoy this Business Magic!™ newsletter, will you do something for me? Simply forward this issue to the people you know who could benefit from it. Or, simply tell them they can sign up for their own subscription. All they have to do is go to !link_website to sign up. It is that easy! You and I want to share the magic so pass it on.
They'll thank you for it and so will I.

5. The Winner

Following Randall's keynote at the VII International Congress EDUCATION FOR TALENT in Puerto Vallarta, Mexico, a drawing was held for an autographed copy of Randall Munson's best-selling book.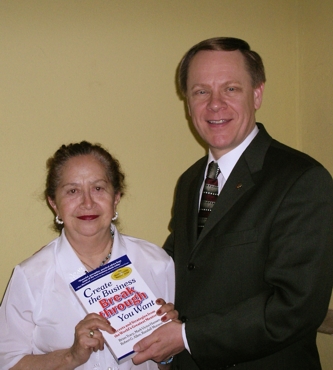 An autographed copy of
Create the Business Breakthrough You Want
is being accepted by Anita Zepeda for the lucky winner,
Alina Ibarra of Guadalajara, Mexico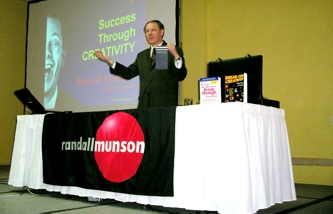 Candid photo taken during Randall Munson's keynote address in Puerto Vallarta, Mexico.
Success Through Creativity!
If you want Randall Munson to deliver one of his powerful, award-winning presentations at your event, contact him now!
6. Ottawa April Fools
Canada's top tax collector had the citizens of Ottawa up in arms on Friday morning, April 1, 2005, when he announced a plan to force them to file their taxes electronically if they wanted a refund before Christmas.

Revenue Minister John McCallum said on a local CBC radio show he was launching a pilot project in Ottawa called "E-file or Else," with long delays and even a 5 percent surcharge for paper filers.

This prompted calls voicing outrage because some people do not have computers and in any case some had already filed their tax returns.

Before the early morning program went off the air, McCallum's voice came on once more: "To all the taxpayers of Ottawa, April Fools' Day."

Another year the show had a minister proclaiming that the government was replacing the clock on Parliament's Peace Tower -- similar to the British Parliament's Big Ben -- with a digital version.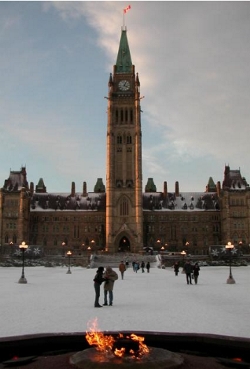 Would you like some useful things without having to pay for them? We'd like to give that to you. Here is some !link_free for you.
7. Parting Thoughts
The focus of this issue of Business Magic!™ is humor. It is a topic worthy of your attention. It is so important that I created a keynote presentation "The Serious Business of HUMOR!" to help organizations in all cultures understand the business value of humor.

When asked if humor is really necessary in a business, my reply is simply this: Only if you want to stay in business.

Laugh at Work Week was founded by Randall Munson and is celebrated around the world annually April 1 through April 7.

I've helped companies around the world make millions of dollars in additional sales - and I may be able to do that for you, too. I can only work with a limited number of companies so, if you are interested in discussing the opportunity, !link_contact_me for a no-cost consultation and we can explore the possibility.
See Randall

Most of Randall Munson's appearances are private events for companies and organizations. Occasionally, there are public venues, open to everyone. Some of them are listed below.

If you would like us to tell you when Randall is speaking in your area, please !link_contact_randall now and ask us to let you know.
Boston, MA, USA
August 21-26, 2005
SHARE




SHARE, the world's first organization of computing professionals, presented Randall Munson with the Best Session Award for his top rated presentation "Business Success Through CREATIVITY!" at their previous international conference. This is the second SHARE conference in a row in which Randall earned the Best Session Award.
Randall is presenting four sessions at SHARE.
http://www.share.org


Orlando, FL, USA
September 18-22, 2005
COMMON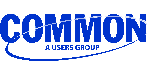 Randall is presenting six sessions at COMMON, World's Largest Computer Users Group. Randall received four GOLD MEDALS for his top rated presentations at the last conference. His program "Magic of Selling Technology!" was the highest rated session of the entire conference.

Randall will be presenting the closing session for the
IT Executive Conference on Monday, September 19, 2005, at the Orlando World Center Marriott in Orlando, Florida. http://www.common.org



Thank you for being a loyal subscriber and for your trust by recommending Business Magic!™ to others.


If you have difficulty subscribing or unsubscribing, please send an email with your name and email address to subscriptions@CreativelySpeaking.com and we'll help you.

To subscribe, click the link below.
Subscribe


© 2005 Randall Munson. All rights reserved.
We encourage sharing Business Magic!™ in whole or in part if
copyright and attribution are always included.

Contact Randall now for further details of his powerful original programs, to request an information kit, or to hire Randall Munson for your organization.