This is your new issue of . . .



BUSINESS MAGIC™
August 22, 2006




In this issue of Business Magic™
1. Featured Photo
2. Nothing Weird at the Wedding
3. Where was Business Magic?
4. iPod™ for the Deaf?
5. The Winner
6. Parting Thoughts





Business Magic™ is a monthly electronic magazine for those who want to experience the magic of creative insights, ideas and inspirations for themselves and their business - based on the popular keynote speeches, seminars and writing of best-selling author, Randall Munson, CSP.

Experience the magic Randall shares with leading companies to increase sales, increase profits, and make their competition disappear.



1. Featured Photo

"It's hard to see where you're going when you're looking over your shoulder."
Randall Munson
Quotations from Randall Munson's newest book
Creativity 102

"Necessity is the mother of invention and fun is the father."
Randall Munson





Quotations from
Randall's audience members:

"Fantastic!
The best thing I have ever seen."
Mark Wilson
CSF Group
West Midlands,
United Kingdom

"Randall has changed my way of thinking."
Tommy Mitchell
ACS-Inc.
Atlanta, GA, USA

"A+ presentation."
Beverly Johnson
Johns Hopkins Hospital
Baltimore, MD, USA

"Wonderful and inspiring. Excellent."
Margaret Lehn
The Boeing Co.
Seattle, WA, USA

"Excellent, funny, and learnable. Great entertainer."
Carsten Johanse
PBS A/S
Denmark

Near Dennison, Minnesota
Thanks for telling us what the speed limit isn't.
Instead, could you give us a hint about what it is?
Each issue of
Business Magic
™ features a photo from my personal "Humor File" containing funny things I have collected from around the world. I recommend you create your own Humor File; put into it whatever you find that is funny
to you
; and, when you are stressed, open up your file and look through it. It works like magic to help reduce stress - and it's cheaper than therapy.
Try some more FUN STUFF and enjoy the laughs.
2. Nothing Weird at the Wedding

"Dad, don't do anything weird at my wedding," my daughter, Sheryl, insisted. Knowing that her father, a professional clown and magician, enjoys fun surprises, she wanted me to know that her wedding ceremony was off limits for any of my foolishness.

The wedding rehearsal wasn't actually the wedding so, as we stood together about to walk down the isle, I donned a gigantic magic top hat with rabbit ears sticking out of it and turned to my daughter hoping to surprise her and give her a good laugh to ease her nervousness. I discovered she shared my zest for fun when I turned to her and saw she was wearing a smile and a big red clown nose. So we laughed down the isle arm in arm.

Although I had promised not to do anything like that at the actual wedding, I wanted to do something very special for my daughter so I began to reconsider exactly what precisely constituted "at the wedding." I came to the conclusion that once the minister pronounced them husband and wife and the bride and groom kiss, the wedding itself must be over, at which point I would be free to do something special.

I designed and built a confetti cannon, mounted it in the ceiling of the church, and concealed the control line by running it down the ceiling beams, through the duct work, and to the back of the church.

At the wedding I instructed the ushers when to secretly reverse the direction of the ceiling fans so they blew upward at high speed. At the precise moment, a friend of mine triggered the confetti cannon from the back of the church. As my daughter and new son turned to face their guests, the air was suddenly filled with pretty white tissue paper hearts swirling in the air like a gigantic, romantic snow globe.

To ensure that Sheryl and Jeremy would be surprised, only my wife, my friend who fired the cannon, the minister, organist and janitor knew about the confetti surprise. I forgot to tell the photographer so we don't have a photo of the delightful moment.

However, when my son, Russel, was married last October, I made sure the photographer was prepared for what I planned. They were getting married in a magnificent old church, not our home church, so mounting a cannon in the ceiling was out of the question. Instead, I redesigned the confetti cannon to be hand-held, filled it with white hearts my wife and daughter punched out of tissue paper, smuggled it into the church, and hid it under my pew atthe front of the church. Following the minister's marital pronouncement, Russel and Allie beamed and, since the service was over by my definition, I fired the canon filling the air with a snowstorm of fluttering white hearts. This time, the photographer caught the magical moment you see in this picture.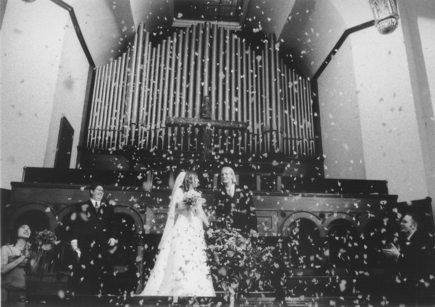 When rules seem to prohibit you from accomplishing something creative, reassess the rules. Often we assume rules are more pervasive and restrictive than they actually are. We, in effect, imagine rules that don't exist, impose them on ourselves, and then behave as if they were inalterable requirements. Are you prohibiting yourself from accomplishing something special because of rules you presume to be true but actually don't exist?

I was able to honor my daughter's request to not do anything weird at her wedding and I was able to reconstruct the effect without touching the historic church where my son was wed. Because I didn't abide by self-imposed rules, I was able to give my children creatively picturesque memories to cherish. You, too, may be able to act on a creative idea complying with actual rules while breaking presumed, but non-existent, rules. Don't let what you can't do get in the way of what you can do.

I can hardly wait until Scott, my third child, gets married.


If you want Randall Munson to deliver one of his powerful, award-winning presentations at your event, contact him now.


3. Where was Business Magic?

Some of you have been asked if your subscription to Business Magic™ has been lost because you haven't gotten an issue for quite a while. Because you are reading this, you can be assured that your subscription is still valid.

I have been focusing on completing a couple exciting projects that have taken time away from publishing Business Magic™.

I published two new books: Creativity 101 and Creativity 102. They contain insights, quotes, and reflections to inspire you to rediscover your creativity. I've been amazed at their instant popularity. The first printings are already nearly sold out.
Order your autographed copies today.



I have produced a new preview video. Many of you have seen my award-winning live programs and would appreciate seeing a reminder of what you enjoyed.

Some of you have not had the opportunity to see my powerful presentations.

Now, you can use this link to see and hear an exciting sample of my live presentations.



4. iPod™ for the Deaf?

Apple's iPod™ is a runaway success. It seems wherever you are, there are people with white plugs in their ears listening to private concerts. However, the ubiquitous iPod™ would appear to be worthless to the deaf. Sometimes the obviously impossible becomes possible with a creative second look.

The latest iPod™ is actually a wonderful device for deaf people. The video screen makes it possible to watch a person singing or talking in American Sign Language (ASL). Just as hearing people enjoy listening to an audio book read by a skilled orator, deaf people enjoy a book read by a skilled signer.

Not only is a good book available in ASL on the iPod™, The Good Book is now available. Deaf Missions of Council Bluffs, Iowa, has produced the entire New Testament in ASL and made it available so that, for the first time, deaf people can download the ASL Bible and hold it in the palm of their hand.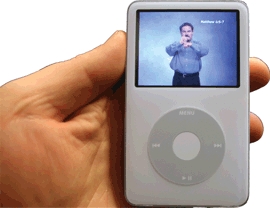 Chad Entinger, Director of Deaf Missions, (and my nephew) says they also have one third of the Old Testament translated to video and intend to make the entire Bible available in the future.

Like the idea of an iPod™ for the deaf, organizations will sometimes reject an idea because it doesn't make sense. Once an idea is rejected, most organizations will never reconsider it in the future.

It is normal to reject an idea because "we tried that once and it didn't work." However, one key to creativity is to reconsider previously rejected ideas. Situations change, conditions change, economies change, and - like the iPod™ - technologies change.

What impractical ideas have you rejected long ago that may now be the solution to a problem you face today? A great, creative idea can sometimes be found by simply reconsidering formerly rejected ideas.


If you enjoy this Business Magic™ electronic magazine, will you do something for me? Simply forward this issue to the people you know who could benefit from it. Or, simply tell them they can sign up for their own subscription. All they have to do is go to http://www.CreativelySpeaking.com to sign up. It is that easy. You and I want to share the magic so pass it on.
They'll thank you for it and so will I.


5. The Winner.

Following Randall's keynote, Success Through CREATIVITY and INNOVATION at the Vanguard Enterprise Security Expo & RACF Users Training Conference 2006, a drawing was held for an autographed copy of two books by best selling author, Randall Munson.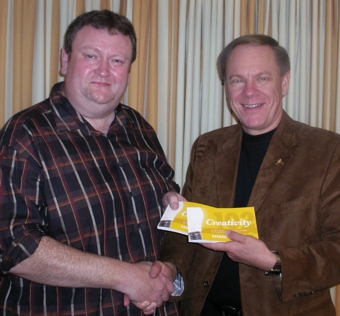 Autographed copies of
Creativity 101
and
Creativity 102
were won by Derek Teehan of
Hewlett-Packard, Ireland
If you want Randall Munson to deliver one of his powerful, award-winning presentations at your event, contact him now.
6. Parting Thoughts.
The focus of this issue of Business Magic™ is creativity. In this world of accelerating change, innovation and creativity are critical for every organization. That is why I created the program "Success Through CREATIVITY and INNOVATION" to help organizations significantly increase the creativity of their people.
In fact, those who participate will double their creativity in an hour.
International Creativity Month was founded by Randall Munson and is celebrated around the world annually January 1 through January 31.
I've helped companies around the world make millions of dollars in additional sales - and I may be able to do that for you, too. I can only work with a limited number of companies so, if you are interested in discussing the possibility, contact me for a no-cost consultation and we can explore the possibility.
See Randall

Most of Randall Munson's appearances are private events for companies and organizations. Occasionally, there are public venues, open to everyone. Some of them are listed below.

If you would like us to tell you when Randall is speaking in your area, please contact Randall now and ask us to let you know.


Baltimore, MD, USA
August 13-18, 2006
SHARE



SHARE, the world's first organization of computing professionals, will present Randall Munson with the Best Session Award for his top rated presentation "How to Deliver a GREAT Technical Presentation" at their previous international conference. This is the third SHARE conferences in which Randall earned the Best Session Award.
Randall is presenting five sessions at SHARE.
http://www.share.org


Miami Beach, FL, USA
September 17-21, 2006
COMMON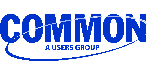 COMMON, the World's Largest Computer Users Group will be presenting Randall with 3 Gold Medals for his top-rated sessions at the previous international conference. He is presenting six sessions at COMMON. Randall has earned more than 68 GOLD MEDALS for his top rated presentations at previous conferences - more than all other speakers combined.
http://www.common.org


Houston, TX, USA
September 26-30, 2007
Texas Clown Association



Randall is the headliner for the Texas Clown Association convention. He will be presenting The Serious Business of HUMOR at the opening evening program and performing a stage show at the closing Awards Banquet. The convention is hosted by the Cheerful Clown Alley of Houston, TX.
http://www.cheerfulclowns.com



Thank you for being a loyal subscriber and for your trust by recommending Business Magic™ to others.

If you have difficulty subscribing or unsubscribing, please send an email with your name and email address to subscriptions@CreativelySpeaking.com and we'll help you.

To subscribe, click the link below.
Subscribe


© 2005-2006Randall Munson. All rights reserved.
We encourage sharing Business Magic™ in whole or in part if copyright and attribution are always included.

Contact Randall now for further details of his powerful original programs, to request an information kit, or to hire Randall Munson for your organization.