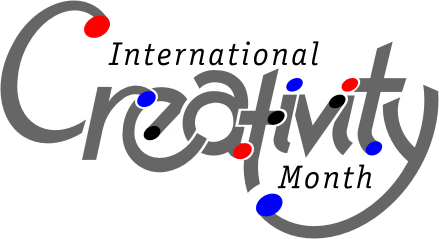 For one month each year the world celebrates International Creativity Month - a month to remind individuals and organizations around the globe to capitalize on the power of creativity.
Unleashing creativity is vital for the personal and business success in this age of accelerating change.
January, the first month of the year, provides an opportunity to take a fresh approach to problem-solving and renew confidence in our creative capabilities.
International Creativity Month was founded by Randall Munson and is celebrated around the world annually in the month of January.
Take advantage of International Creativity Month to refocus your attention to creatively improve your business and personal activities.
Resources for
International Creativity Month

FREE ELECTRONIC MAGAZINE

SHOP

Books and Recordings


CREATIVE FUN STUFF

RELATED ARTICLES
Failure: The Ultimate Secret of Success
by Randall Munson
by Randall Munson, CSP
From the column "Magic of Selling iSeries"
by Randall Munson, CSP
From the column "Magic of Selling iSeries"

KEYNOTE SPEECH
Randall Munson Presents
Success Through Creativity
and Innovation!™
How to Boost Your Creativity, Increase Your Innovation and Enhance Your Success
Research shows that 90% of children under the age of 5 are "highly creative" -- in staggering contrast to a mere 2% of adults. Unleashing that lost, pent-up creativity is vital to the success of individuals and corporations in an era of increasing competition and accelerating change.
Corporate executive, best selling author, educator, and entertainer Randall Munson delivers a powerhouse presentation that blasts through blocks, overturns conventional approaches, and sweeps away the cobwebs. He utilizes the tools of humor, games, and logic, paired with magical effects that illustrate the ideas and lock them into the listener's mind. Participants will gain a fresh approach to problem-solving and a renewed confidence in their own creative capabilities.
Learn how to:
Double your creativity immediately
Unbottle your creativity by eliminating the "5 Deadly Statements"
Ask the questions that generate more creative solutions
Gain insight into why creativity diminishes and how to renew it
Bring a heightened creativity to all aspects of your life and relationships
"Wonderful! Every corporate manager should see this presentation!"
Executive, IBM, Rochester MN, USA
"Our delegates named Randall Munson the Best Speaker of the year and voted his "Success Through Creativity" presentation the Best Session of the Conference."
Sharon Rampley, Conference Manager, Sidney, Australia
"Randall Munson's 1-hour presentation made the entire 2-day conference worthwhile!"
Executive, RJR Nabisco, Raleigh NC, USA

CREATIVITY LINKS
Contact Randall now for further details of his highly original programs, to request a promotional kit, or to book Randall Munson for your most important events.