Randall Munson Presents
DIVERSITY - Everyone Smiles
in the Same Language!™
A fresh, uplifting perspective on diversity!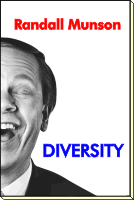 We live in a world of diverse cultures, languages, priorities and appearances. In spite of our vast differences all people laugh in the same language.
Instead of treating people differently because of their differences we can discover how to treat people the same because of our similarities.
Humor relaxes people, reduces stress and conflicts, and opens inner doorways to enhanced communication, cooperation, and appreciation. When we laugh together we build a natural bond.
Randall invites participants to loosen up and laugh, as they are encouraged and motivated when they experience a shift in perspective about how to treat others.
He urilizes the tools of humor, magic and ventriloquism to illustrate his refreshing ideas. Participants come away energized and inspired, with usable ideas about how to incorporate humor into their lives and workplace and how to appreciate diversity diversity among people.
Founder of Laugh at Work Week, world traveler, corporate executive, best-selling author, educator, comedy magician, and ventriloquist, Randall Munson, delivers award-winning presentations to organizations across 6 continents.
Let Randall's esperience working with people throughout the world help you understand how we may see diversity on the outside but share universal humanity on the inside.
Learn how to:
Use humor in an effective diversity strategy
Treat others as they enjoy being treated
Disarm conflict through humor
Use laughter to build teamwork
Use humor to reduce stress and tension
Discover how to appreciate others in a diverse world
"No matter the country, no matter the language, Randall Munson communicates the truth of his brilliant insights."
Dr. Ramon Ferreiro, Ph.D., International Congress of Talent
Puerto Vallarta, Mexico
"A breath of fresh air."
John Skvarla, U. S. Department of Veterans Affairs
Philadelphia, PA, USA
"If you are looking for looking for a diversity program that is fun, positive and encourages people to treat others well, hire Randall Munson. He actually makes a difference."
Tom Price, U. S. Department of Energy
Bismarck, ND, USA
"People are still quoting points you made that touched them so it was obviously inspiring and challenging to them personally."
Linda Elberts, F. Hoffmann-La Roche
Welwyn Garden City, United Kingdom
"The best diversity speaker we've ever had."
Derrick Davis, Western Area Power Administration
Ft. Peck, MT, USA
"Nobody else could have made such a profound presentation in such a vibrant, animated, energetic way."
Dr. Luis Alberto Machad
Venezuel's Minister for the Development of Intelligenceo
Caracas, Venezuela
"Hands down the best professional business speaker and motivational specialist in the business. He always leaves me feeling empowered to change the world and feeling great about it."
Chris Armstrong, United States Federal Reserve
Richmond VA, USA
Contact Randall now for further details of his highly original programs, to request a promotional kit, or to book Randall Munson for your most important events.