This is your new issue of . . .



BUSINESS MAGIC®
December 21, 2006




In this issue of Business Magic®
1. Featured Photo
2. The Ladder Doesn't Matter
3. Business Magic® Registered by US Patent Office
4. New Video
5. The Winner
6. Parting Thoughts


Business Magic® is a monthly electronic magazine for those who want to experience the magic of creative insights, ideas and inspirations for themselves and their business - based on the popular keynote speeches, seminars and writing of best-selling author, Randall Munson, CSP.

Experience the magic Randall shares with leading companies to increase sales, increase profits, and make their competition disappear.

If this is difficult to read because the HTML format doesn't work properly with your email software, please forward this to subscriptions@CreativelySpeaking.com and ask us to change your subscription from HTML to Text format.

To see this properly formatted in your web browser, use this link .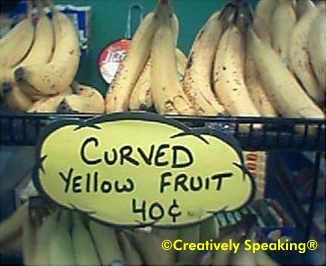 Do these sell better than bananas?
Each issue of
Business Magic
® features a photo from my personal "Humor File" containing funny things I have collected from around the world. I recommend you create your own Humor File; put into it whatever you find that is funny
to you
; and, when you are stressed, open up your file and look through it. It works like magic to help reduce stress - and it's cheaper than therapy.
Try some more FUN STUFF and enjoy the laughs.
2. The Ladder Doesn't Matter
The customer's perspective is what counts.

The team of students who put together the Howard Lake High School yearbook gathered together. Under the leadership of Sharon, a cute girl who was co-editor (and now my wife), we eagerly looked through the proofs of photographs when they arrived from the professional photographer. We were disappointed in what we saw. There were lots of wide photos of masses of students but few photos of our friendsí smiling faces.

The photographer made a mistake. He had gone through a lot of work to take those wide big group shots we couldnít use. He had hunted down a janitor and persuaded him to erect a tall stepladder in the gymnasium; he set up his camera on top of the ladder; he assembled large groups of students and posed them in front of the ladder; over and over he went up and down the ladder adjusting the lighting and repositioning the groups. After all that work, he was proud of the resulting photographs. But they werenít great pictures. There were so many people on the pictures that the faces were too small to see.

We asked him where the close-up pictures were. We knew he took some. But he hadnít bothered to print them. He was so proud of the hard work he did to get the group pictures from the top of the ladder, that he thought those were the only pictures worth printing.

We, however, wanted to clearly see our fellow students. We wanted faces not masses of miniature bodies. He forgot what mattered to us, his customer. The only way we got to see what we wanted was to insist that he print a contact sheet containing every picture he took.

Iíve seen this mistake repeated over and over in many fields
A software designer thinks a function is important because he is proud of his work. The feature may be difficult to implement but he persevered through untold hours of work until he succeeded, it may be brilliantly clever, or it may be unique in the industry. Those things may impress his fellow software designers but to the customer, a function is important because it makes his job easier or makes his business more successful. The software function may be bland, common, and easy to program but the development effort doesnít really matter to the one who uses the software.



A magician thinks a trick is impressive because he spent years perfecting a particularly difficult slight of hand maneuver. Other magicians may be awed by his skill but his audience doesnít care about that. They are impressed by what they see. They donít care if it was done through exceptional skill or a gimmicked box he bought at a magic store.
How I applied the lesson of the ladder
When I decided to create a new demo video, I hired Gary Smith, a professional video producer, to select the video clips to use. He watched about 100 hours of my presentations. He figured out what my customers want to see in order to understand what I can do for them. Those are the clips he selected. I would tend to show the things I am most proud of Ė the parts I worked on a lot, that were difficult to do, or that show me doing something no other speaker does. But Gary selected great video clips I would never have considered because he looked at it from the eyes of the customer, not the speaker.



When I consult for a company I donít charge for my time. What matters to my clients is the value of my ideas and insights, not the number of hours I spend on it. Unlike a plumber, I donít get paid by the hour. I get paid for the measurable effect on the business. Whether it takes me 2 weeks or 2 minutes it not important to my client. What is important is the improvement my ideas have on the company Iím helping.
How about you?
Look at your marketing and sales materials. Are you showing your productís value through your eyes or your customerís eyes? Are you emphasizing what you are proud of or what matters to your customer? It doesnít matter to your prospects how clever you are or how much work you devoted to something. They donít care about your effort; they care about the effect.

Like our high school yearbook team, your prospects donít care if you had to go through great effort to get a difficult photo while teetering at the top of a 12í stepladder. They only care if what you offer them meets their needs. That is what makes them decide to buy. Lose the ladder and give your customers close up photos if that is what they want. The ladder doesnít matter.


If you want Randall Munson to deliver one of his powerful, award-winning presentations at your event, contact him now.


3. Business Magic® Registered by US Patent Office

We are excited to announce to our readers that on October 24, 2006, the name Business Magic® was registered to us by the United States Patent and Trademark Office. Nearly two years after our initial filing, we now have in our hands the official United States of America Certificate of Registration Ė complete with a big gold seal. Because we hold the trademark for Business Magic&reg, we are assured of the exclusive right to use the name.

Now, we have to go through every reference we have to Business Magic and change the little TM symbol (™) to the little R with a circle around it (®). Oh well.

4. New Video

The new preview video that I referred to in the ďLadder Doesnít MatterĒ article above is now available for you to see on my web site. Previously we had only the abbreviated version available, but now we have the entire video for you to see.

You can watch it with either Windows Media Player or Quicktime and you have the option to select your connection speed to optimize the clarity of the video. Please use this link to see and hear an exciting sample of my live presentations.


If you enjoy this Business Magic® electronic magazine, will you do something for me? Simply forward this issue to the people you know who could benefit from it. Or, simply tell them they can sign up for their own subscription. All they have to do is go to http://www.CreativelySpeaking.com to sign up. It is that easy. You and I want to share the magic so pass it on.
They'll thank you for it and so will I.


5. The Winner.

Following Randall's keynote, The Serious Business of HUMOR at the Bank Depository User Group Conference in Tampa, a drawing was held for an autographed copy of two books by best selling author, Randall Munson.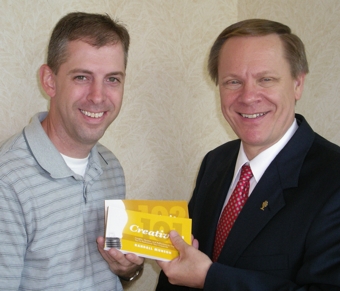 Autographed copies of Randall's newest books
Creativity 101
and
Creativity 102
were won by Chris Buck of
J.P. Morgan, Reynoldsburg, OH
See more about these popular books that will help you be more creative:
If you want Randall Munson to deliver one of his powerful, award-winning presentations at your event, contact him now.
6. Parting Thoughts.
The focus of this issue of Business Magicģ is sales. No matter what business you are in, sales are essential. Even in a non-profit organization, sales - the acceptance of what you are offering - are necessary for you to fulfill your mission. It is so important that I created a keynote presentation
"The Magic of Selling"
to help organizations around the world understand the secrets to increasing their sales.
I work closely with companies and corporations, as a consultant, to help them boost their sales.
Selling success for the customer, rather than what you are proud of in your product or service, is one of the secrets of successful sales. To find out more about how you can increase your sales - and make your competition disappear,
click here now
.
I've helped companies around the world make millions of dollars in additional sales - and I may be able to do that for you, too. I can only work with a limited number of companies so, if you are interested in discussing the possibility, contact me for a no-cost consultation and we can explore the possibility.
See Randall

Most of Randall Munson's appearances are private events for companies and organizations. Occasionally, there are public venues, open to everyone. Some of them are listed below.

If you would like us to tell you when Randall is speaking in your area, please contact Randall now and ask us to let you know.


Tampa, FL, USA
February 11-16, 2007
SHARE



SHARE, the world's first organization of computing professionals, will present Randall Munson with the Best Session Award for his top rated presentation "How to Deliver a GREAT Technical Presentation" at their previous international conference. This is the third SHARE conferences in which Randall earned the Best Session Award.
Randall is presenting five sessions at SHARE.
http://www.share.org


Anaheim, CA, USA
April 29-May 3, 2007
COMMON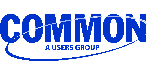 COMMON, the World's Largest Computer Users Group will be presenting Randall with 2 Gold Medals for his top-rated sessions at the previous international conference. Randall's "Success Through CREATIVITY and INNOVATION" was the highest rated session of the entire conference. Randall is also receiving the Best New Session award for his presentation of "Funny Business". He is presenting six sessions at COMMON. Randall has earned more than 68 GOLD MEDALS for his top rated presentations at previous conferences - more than all other speakers combined.
http://www.common.org



Houston, TX, USA
September 26-30, 2007
Texas Clown Association



Randall is the headliner for the Texas Clown Association convention. He will be presenting The Serious Business of HUMOR at the opening evening program and performing a stage show at the closing Awards Banquet. The convention is hosted by the Cheerful Clown Alley of Houston, TX.
http://www.cheerfulclowns.com



Thank you for being a loyal subscriber and for your trust by recommending Business Magic® to others.

If you have difficulty subscribing or unsubscribing, please send an email with your name and email address to subscriptions@CreativelySpeaking.com and we'll help you.

To subscribe, click the link below.
Subscribe


© 2005-2006Randall Munson. All rights reserved.
We encourage sharing Business Magic® in whole or in part if copyright and attribution are always included.

Contact Randall now for further details of his powerful original programs, to request an information kit, or to hire Randall Munson for your organization.



"The confused mind always says NO."
Randall Munson
Quotations from the authors of the new sales book
The Sales Coach II


"Any time there is a discrepancy between where people are and where they'd like to be, a sales opportunity exists."
Lorna Riley




Quotations from
Randall's audience members:

"This kind of presentation is critical for improving the sales!"
Jure Gorjanc,
LESTRA d.o.o.,
Slovenia

"Randall Munsonís presentation was more than a hit Ė it was a grand slam home run."
Frank Marcus,
General Sales Manager,
E. & J. Gallo Winery,
Bellevue, WA, USA

"Outstanding presentation! Randall was entertaining, fun, and put selling into its proper perspective."
Jim Kandrac,
United Computer Group, Inc.
Brecksville, OH, USA